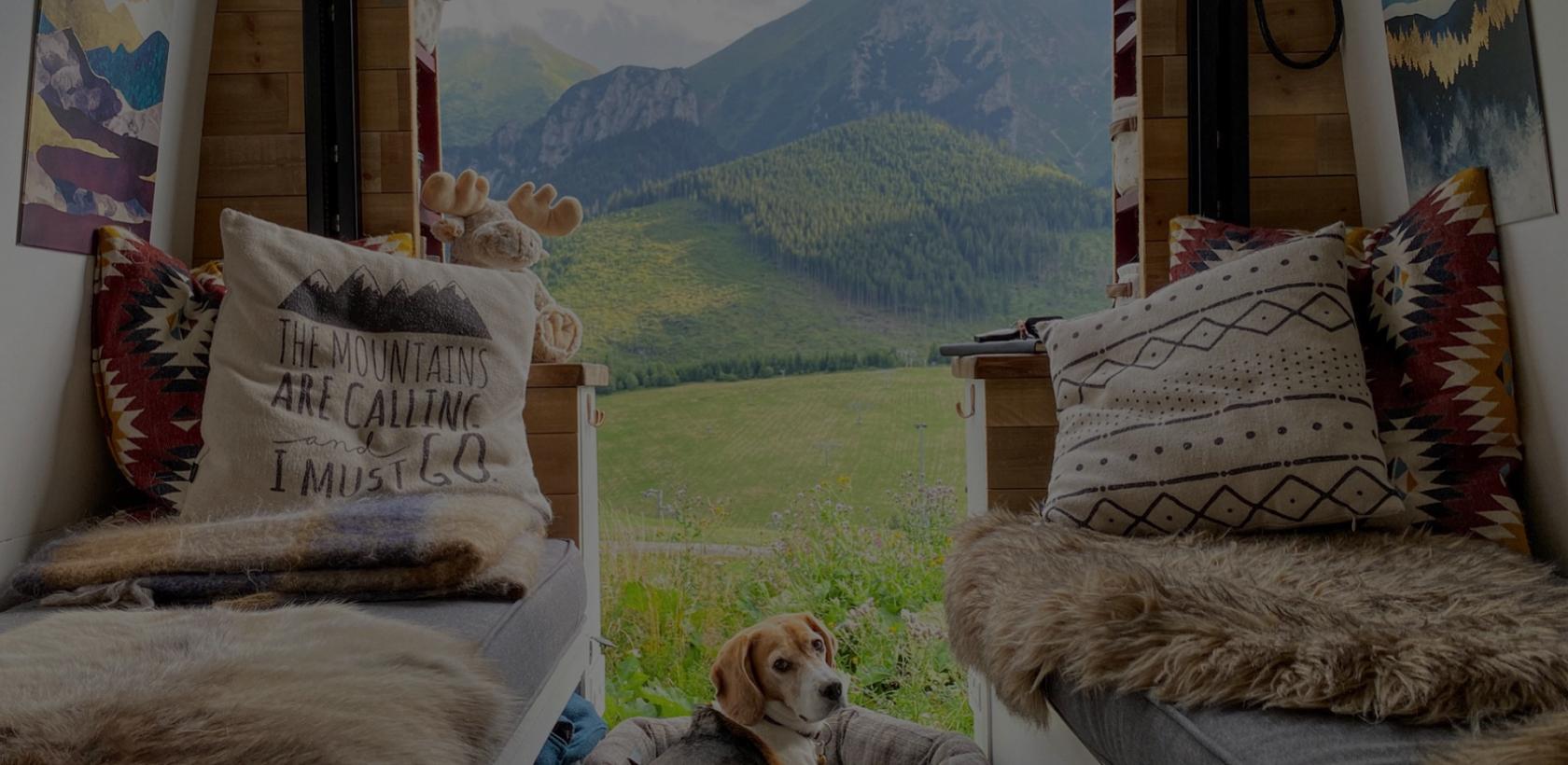 Savant Dealer: Intrinsic Dev
United Kingdom
Project overview
Imagine living and traveling through Europe in a fully renovated, tech-smart Sprinter Van! Meet Ceri, Will and Piglet, or you might know them as To The Mountains And Back. They have been living and traveling in their smart Sprinter Van since 2019. Will is CEO of the UK-based company, Intrinsic Dev, www.intrinsicdev.com, specializing in writing software drivers for smart home systems including profiles for savant—and they provide savant training in the UK. The van features an amazing array of technology for power management, entertainment, lighting and security all controlled by a savant system. Living in and traveling through Europe in a decked-out Sprinter Van, Ceri and Will focused on critical technologies that would make their journey safe and more enjoyable.
Photo Gallery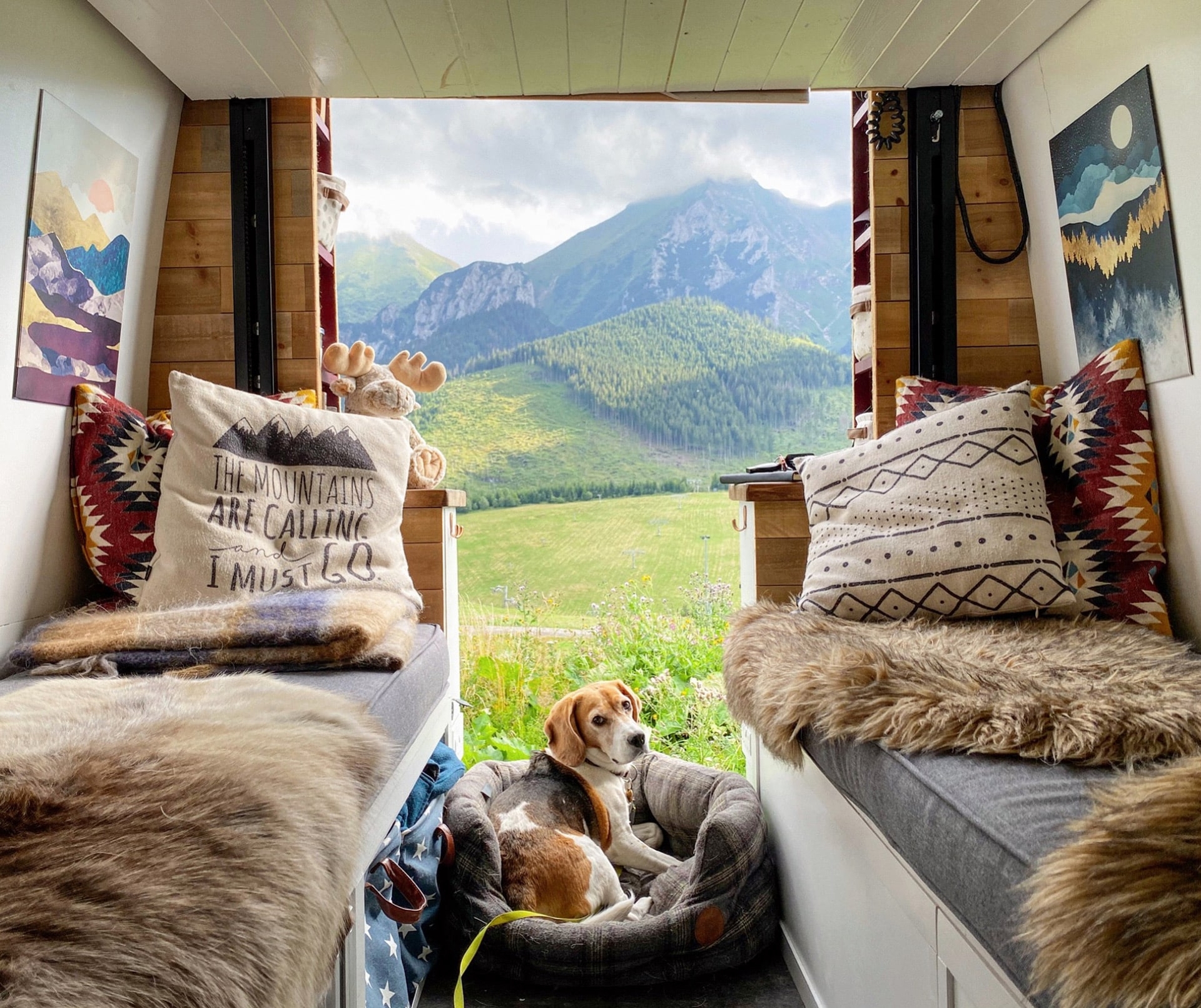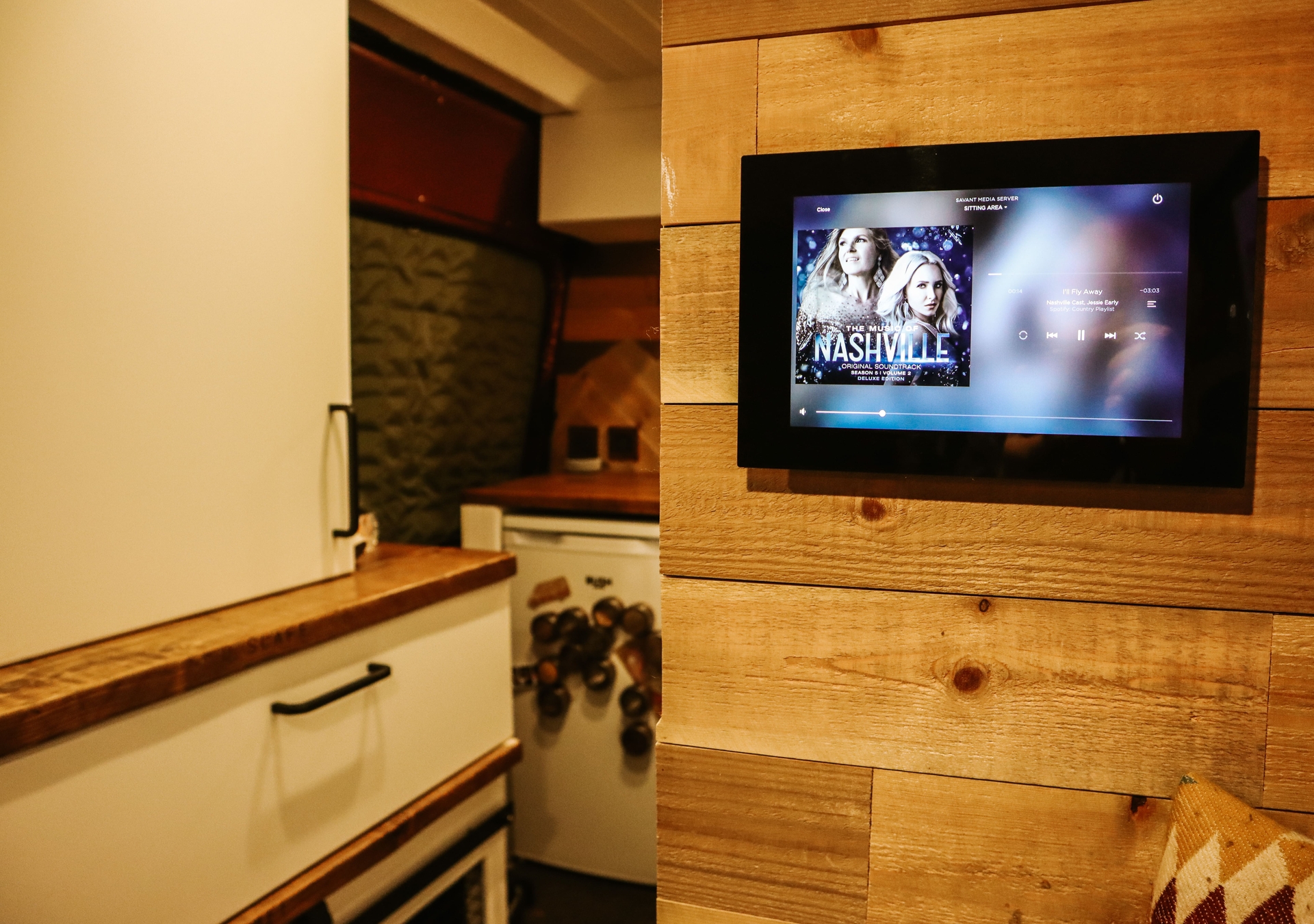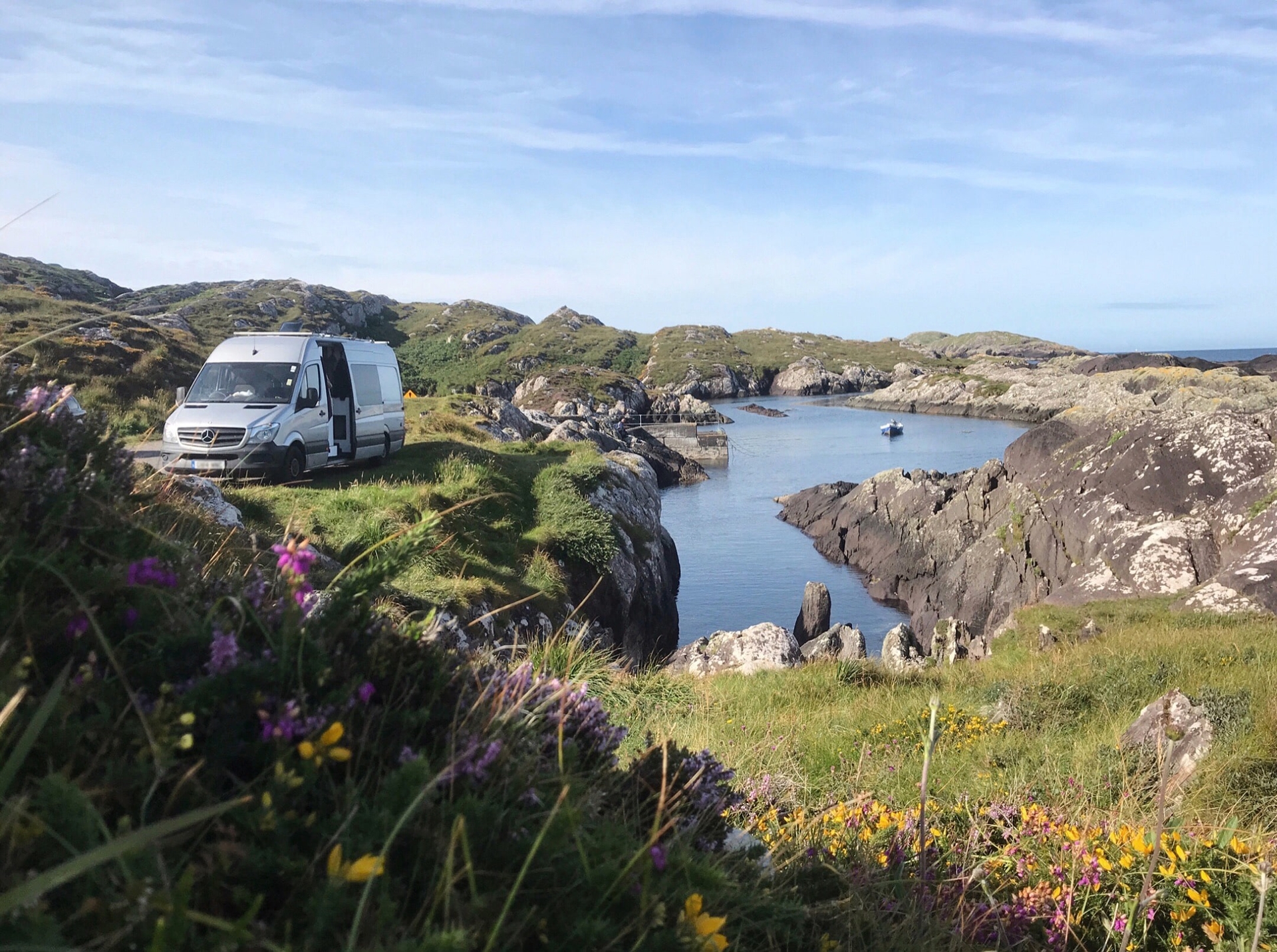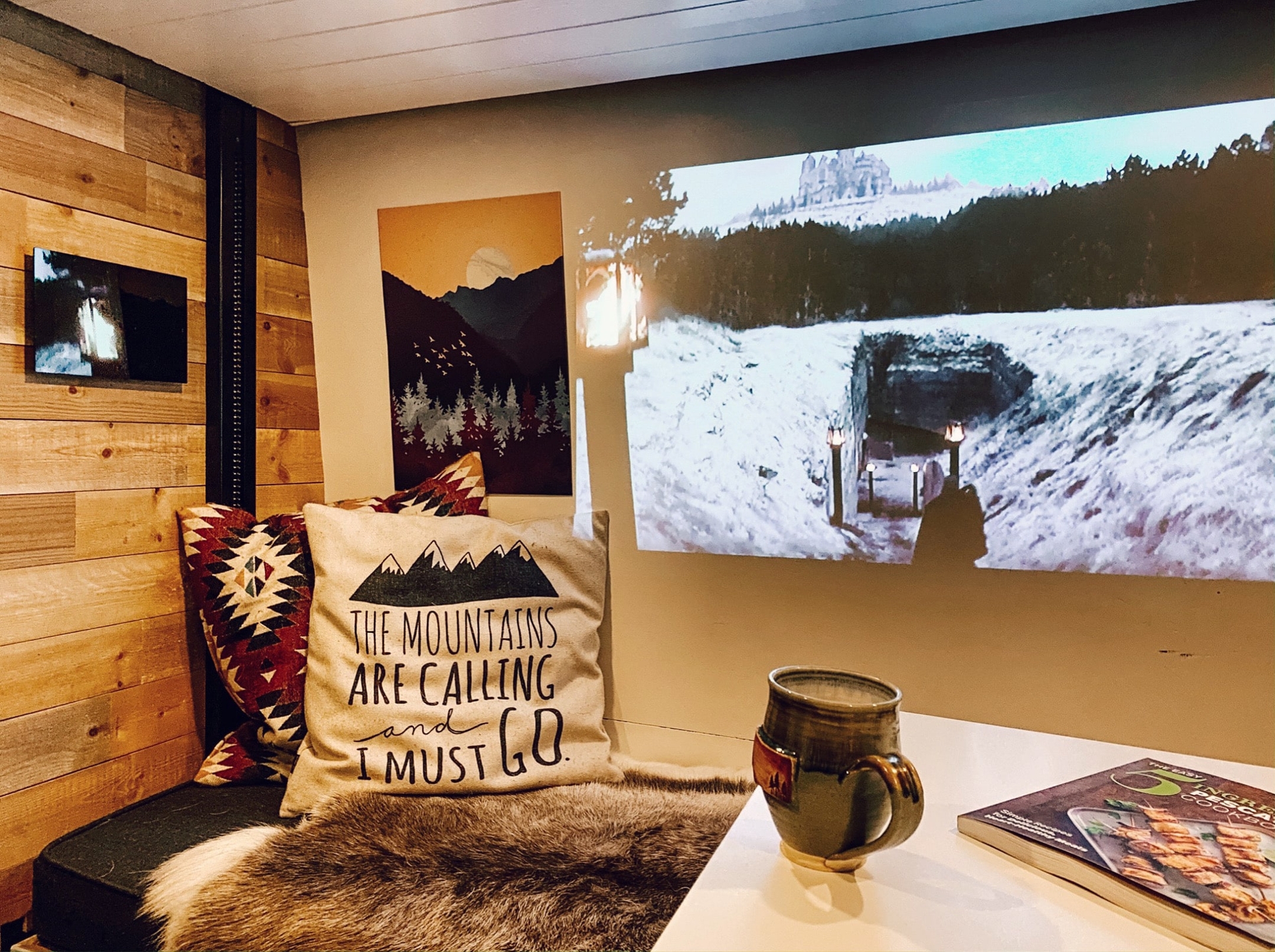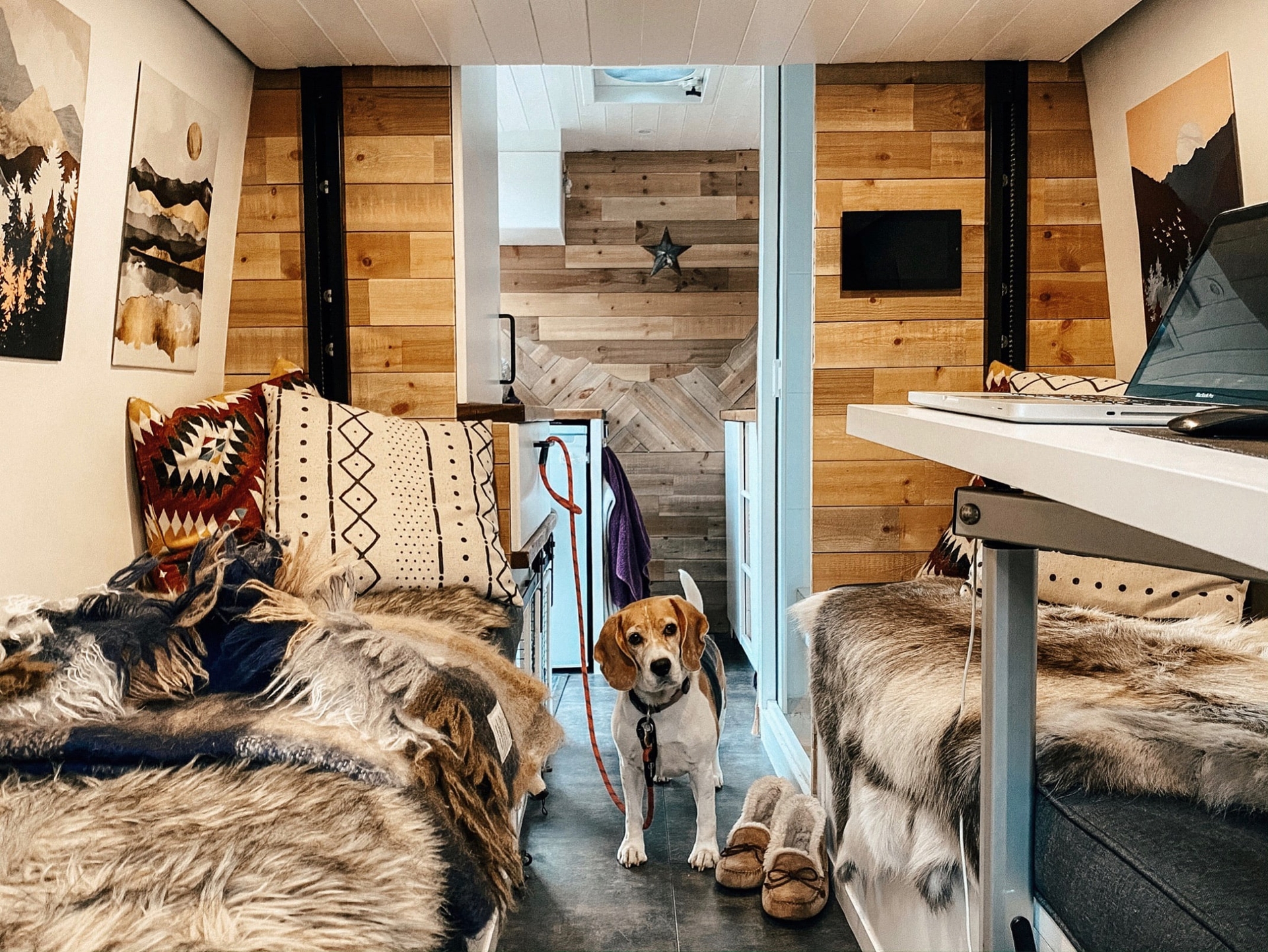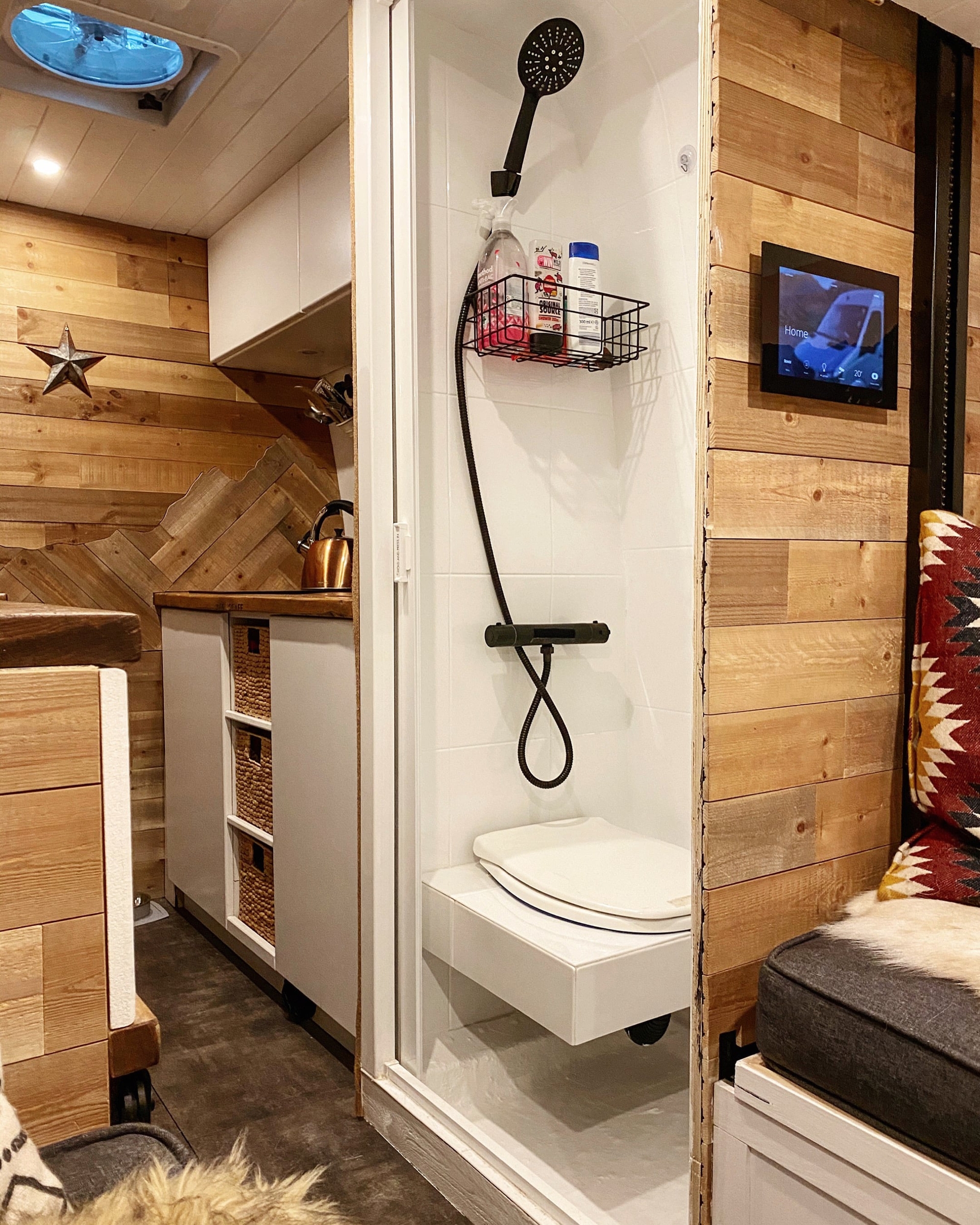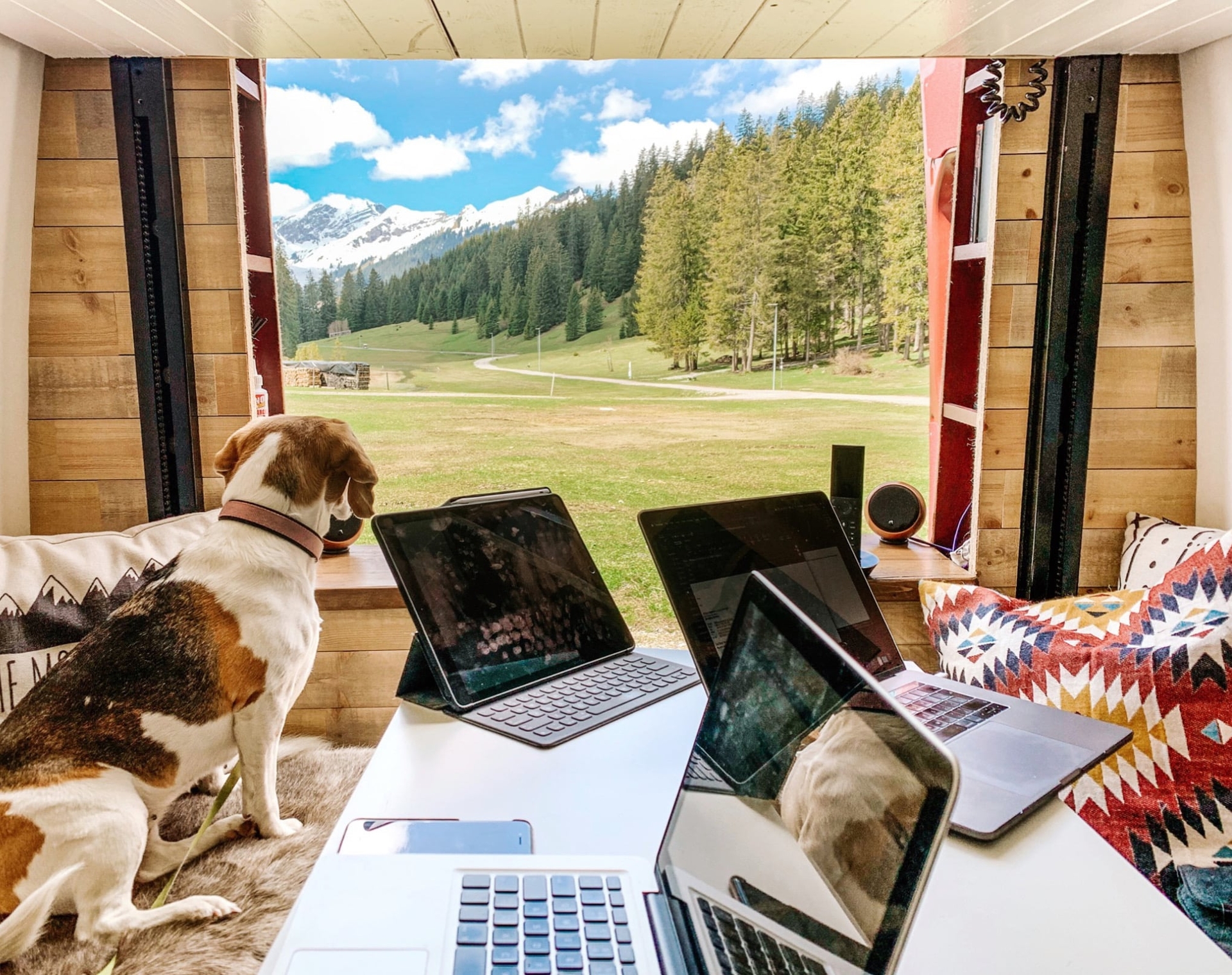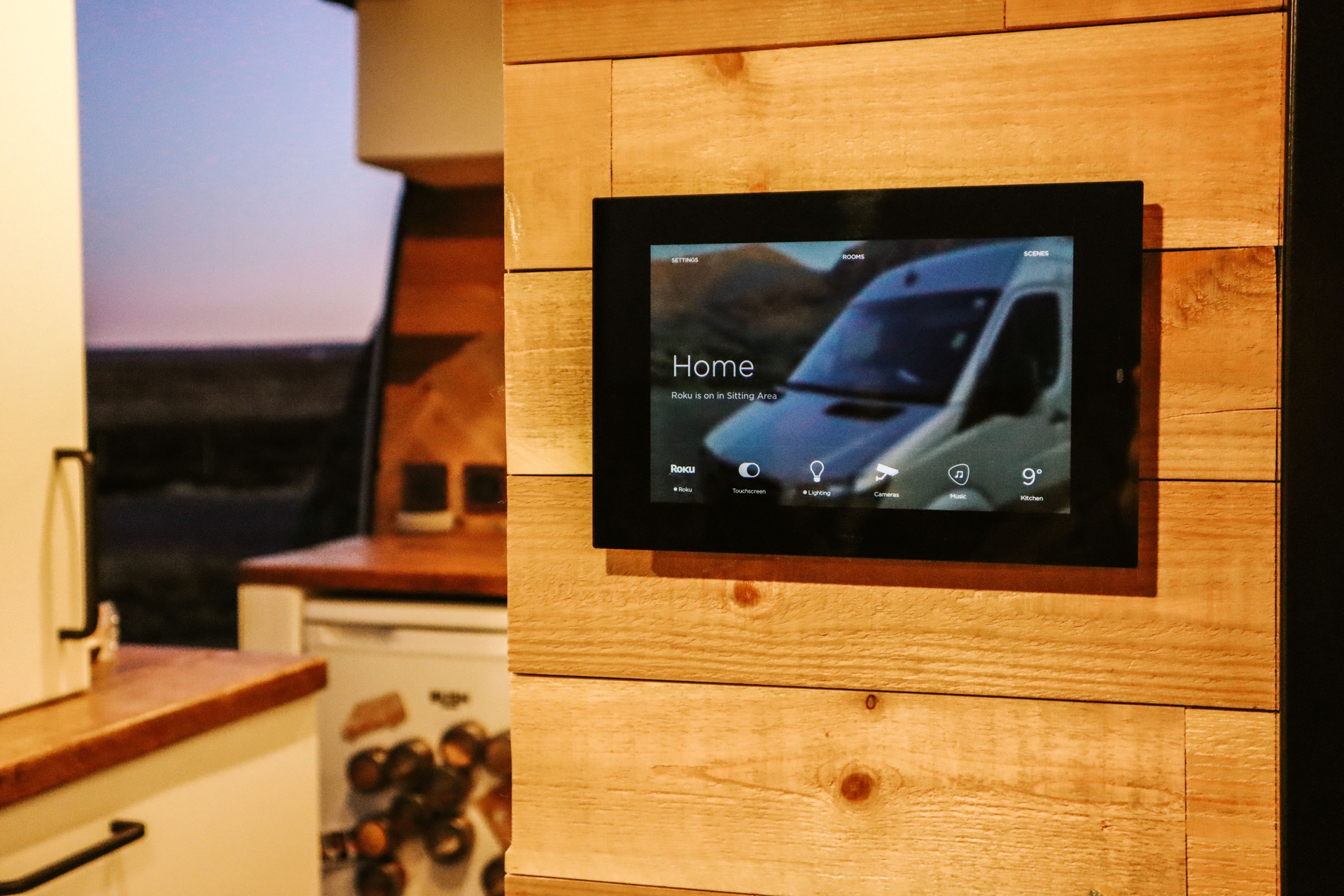 SAVANT PRO REMOTE
The Savant Pro Remote is a handheld smart home controller that delivers an unprecedented user experience while providing a full range of control for Services and Scenes, including Entertainment, Lighting, Climate, Security, Shades and more. Featuring a 3.1-inch high-resolution glass touch screen, the Pro Remote X2 highlights amazing advances in industrial design, user-personalization capabilities and integrated voice control to deliver the most intuitive smart home experience ever!
SAVANT TOUCH PANELS
Savant touchscreens deliver dedicated, intuitive smart home control with stunning, high resolution graphics, enabling users to control services throughout the home include audio, video, climate, security, pool/spa and much more. Activate scenes, view security cameras, or simply crank up the tunes. Savant's 5.5-inch touchscreen is compatible with new or retrofit installations, and a presence sensor effortlessly wakes the screen when a person approaches. The touchscreen also features an embedded microphone and speaker for use with entry services.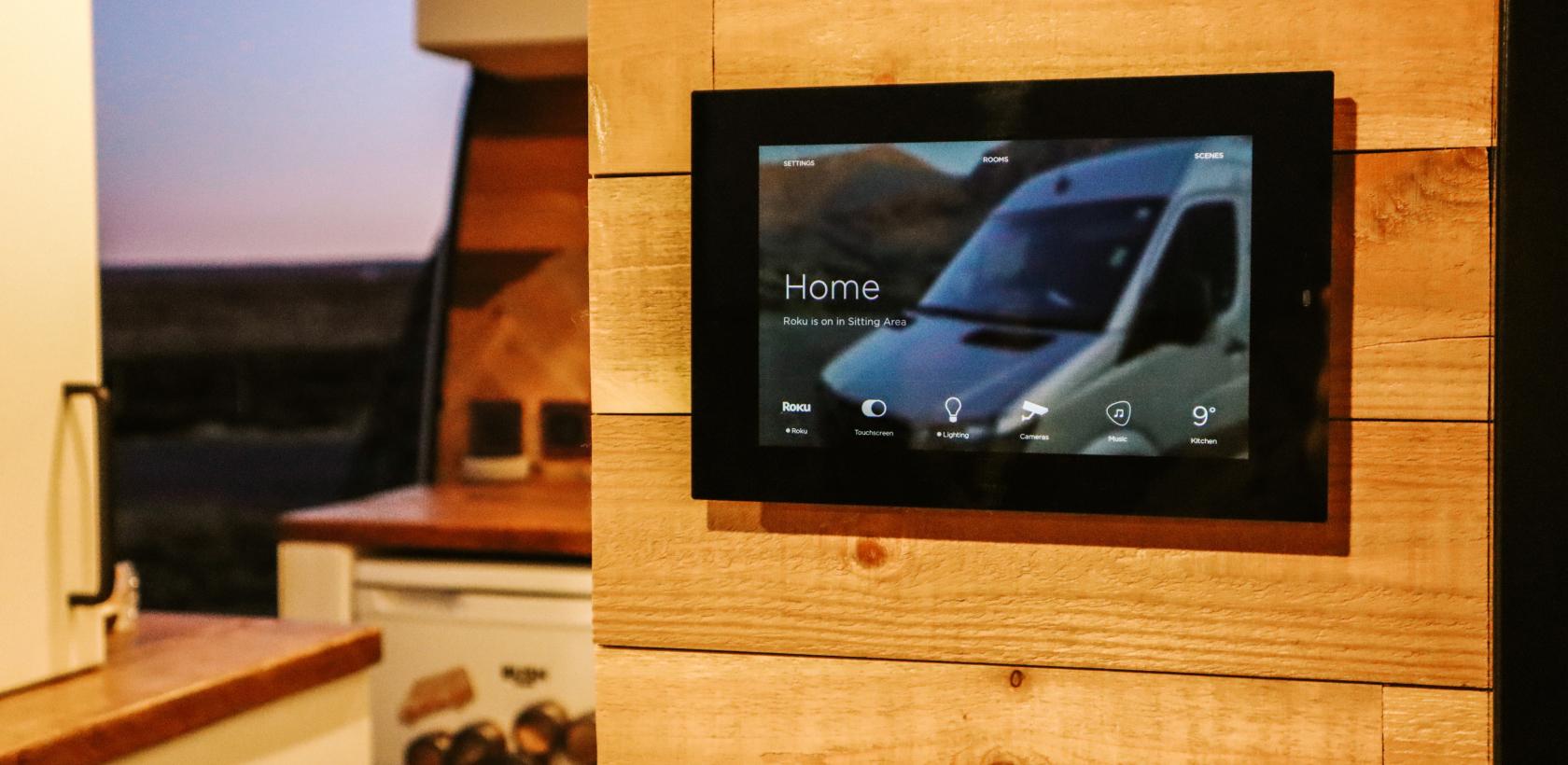 Project Details
The primary reason Ceri and will selected savant for their vehicle was aesthetics. Living space is very limited in the van, so there simply wasn't extra room for over-complex technology. They access their Savant system using a touchscreen and a Pro Remote. "The clean, modern interface is easy to use and perfect for controlling our mini home cinema, music and lighting," said Ceri. She also loves the design of the remotes, "they're so simple and easy to use." As part of their Savant installation, Ceri and will were excited to utilize Italian-designed Vimar light switches in copper to match the detailing in the van, which integrate seamlessly into the Savant system.  
Security was also a paramount concern. Ceri and will have a Savant system in their home in the UK, so they can easily access and monitor their home while travelling. Additionally, integrated security cameras throughout the van allow them to check the van remotely to ensure that their little home-on-wheels is safe and secure. Last summer, they were parked overnight near a castle in Slovakia and woke up at 5AM to the loudest noise and violent shaking from side to side. They had no idea what it was. Quickly, they went to the camera view on their touchscreen to discover a helicopter was landing right next to the van in order to pick up building supplies for the castle!
Power management in the van is also essential. The vehicle primarily functions off-grid, and they rely on roof-mounted solar panels to charge the batteries. While stationary, they can also charge batteries using their alternator. In winter months, solar is harder to come by, so they turn many devices off to conserve battery power. The Savant system enables Ceri and will to enjoy a day of skiing and still remotely monitor power levels and turn off devices as needed if the batteries get low or solar panels become covered in snow! 
The Savant system enables Ceri and will to remotely monitor and control climate in the van. If they're out exploring in the summer, they can check the temperature inside and activate the roof fans to cool down the interior for their arrival back to the vehicle.
Finally, they chose Savant to adapt with the limited available space. With two adults and a dog in such a small area, it can feel a little crowded. Being able to control things from your phone, touchscreen, and remote means you're not getting in each other's way if one person is trying to cook or someone is on a zoom meeting!
Ceri and will's tech-savvy Sprinter Van combines elegant, green design with superior technology to deliver the ultimate van adventure living experience. We encourage you to follow along with their journey at https://www.tothemountainsandback.com/van-life-tech
Products used
Savant App
Savant Pro Remote
Intrinsic Dev (UK)
Working closely with installers and manufacturers, Intrinsic Dev provides a range of services from system design to custom drivers and advanced integration solutions. Ceri and Will decided to trade traditional home life for a mobile existence to see Europe. While on the road, the tech in their amazing Sprinter Van enables Will to design and test solutions in real time. The van is essentially a tiny Savant smart home on wheels.